Reducing Anxiety with Nature and Gardening (RANG): Evaluating the Impacts of Gardening and Outdoor Activities on Anxiety among U.S. Adults during the COVID-19 Pandemic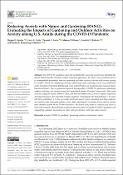 Publication or External Link
Authors
Rosenberg, Goldstein Rachel E.
Citation
Gerdes, M.E.; Aistis, L.A.; Sachs, N.A.; Williams, M.; Roberts, J.D.; Rosenberg Goldstein, R.E. Reducing Anxiety with Nature and Gardening (RANG): Evaluating the Impacts of Gardening and Outdoor Activities on Anxiety among U.S. Adults during the COVID-19 Pandemic. Int. J. Environ. Res. Public Health 2022, 19, 5121.
Abstract
The COVID-19 pandemic impacted mental health. Growing research has identified the mental health benefits of nature contact, including gardening. We used a cross-sectional survey to investigate the association between gardening and other outdoor activities with anxiety among U.S. adults. The RANG (Reducing Anxiety with Nature and Gardening) survey was distributed online from June–September 2020 through social media (Twitter and Facebook) and a national Master Gardeners listserv. Survey questions captured demographics, COVID-19 experiences, gardening, outdoor activities, and anxiety using the Generalized Anxiety Disorder 7-item scale. Data were analyzed using chi-square, Fisher's exact, and Kruskal–Wallis tests, as well as logistic regression. Among participants, 46% reported anxiety symptoms. Participants who had gardened ≥ 15 years and those gardening > 8 h over two weeks had lower anxiety scores. Spending more time outdoors on weekdays also decreased anxiety scores. After adjusting for covariates, lower odds of anxiety were identified for 50–69 and 70–89-year-olds vs. 18–29-year-olds; males vs. females; and Texas vs. Maryland residents. These findings confirm increased anxiety during the COVID-19 pandemic and suggest that sustained gardening and other outdoor activities could help reduce anxiety.