ACTIVATING TECHNOCAPITAL: A CASE STUDY OF MARGINALIZED MIDDLE SCHOOL YOUTHS' EXPERIENCES WITH INFORMATION COMMUNICATION TECHNOLOGY.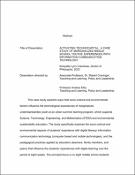 Publication or External Link
Advisor
Elby, Andrew
Croninger, Robert
Abstract
This case study explores ways that socio-cultural and environmental factors influence the technological experiences of marginalized, underrepresented youth at an urban summer learning program, which supports Science, Technology, Engineering, and Mathematics (STEM) and environmental sustainability education. The study specifically explores the socio-cultural and environmental aspects of students' experience with digital literacy/ information communication technology (computer based and mobile technologies), and the pedagogical practices applied by educators (teachers, family members, and peers) that influence the students' experiences with digital learning over the period of eight weeks. The principal focus is on eight middle school students ranging from nine to twelve years of age who reside in an urban environment with their parents/caregivers. In efforts to better understand the experiences of the students, the focus is shared (but not centered) on the parents/caregivers, educators, and volunteer community members who contribute to the students' perception and use of technology. A major finding of the study is that community-embedded resources, what have been referred to in the literature as funds of knowledge or community cultural wealth, can play a positive role in shaping students' experiences with technology, especially when students, parents, and educators use those resources to create culturally relevant learning experiences that contribute to building technocapital. In general, the findings address beliefs and contextual ecological factors that contribute to the appearance and activation of social and cultural capital in the technological practices of marginalized youth. The accounts of youth and parent perspectives uniquely display the ways the funds of knowledge and community cultural wealth act as social and cultural capital. The participant stories present how the networks of the participants' parents and community contribute to social connectivity and the awareness of civic participation in both the exosystem and mesosystem of their lives. Overall, the findings present an evidence-based contribution to further support the need to understand and advocate for funding and the development of policy to address: 1) racial/ethnic and socioeconomic differences in education; 2) the positive processes by which cultural resources in the communities of marginalized youth are converted into social and educational advantages; and 3) increasing knowledge and utility of the various forms of capital embedded in moderate-to-low income, non-majority communities that play a positive role in youths' motivation to utilize ICT and develop digital literacy skills that increase productivity and achievement. Keywords: underrepresented youth, supplemental learning program, information communication technology, digital learning, social capital, cultural capital, funds of knowledge, community cultural wealth.