The giant escape neurons of crayfish: Past discoveries and present opportunities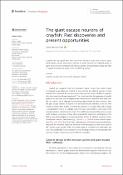 Publication or External Link
Citation
Herberholz J (2022), The giant escape neurons of crayfish: Past discoveries and present opportunities. Front. Physiol. 13:1052354.
Abstract
Crayfish are equipped with two prominent neural circuits that control rapid, stereotyped escape behaviors. Central to these circuits are bilateral pairs of giant neurons that transverse the nervous system and generate escape tail-flips in opposite directions away from threatening stimuli.
Notes
Partial funding for Open Access provided by the UMD Libraries' Open Access Publishing Fund.
Collections