National Humanities Alliance Annual Meeting and Humanities Advocacy Day, March 19-21, 2023.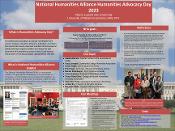 Publication or External Link
Abstract
The NHA Annual Meeting brings together faculty, administrators, and representatives from scholarly societies, museums, archives, libraries, and other humanities organizations to build their capacity to advocate for the humanities. On Humanities Advocacy Day (this year on March 21, 2023), state-based delegations, including Maryland's, traveled to Capitol Hill to meet with Members of Congress and their staff to ensure federal humanities funding in 2023.
Rights
CC0 1.0 Universal
http://creativecommons.org/publicdomain/zero/1.0/